A Smart Backpack That Isolates Your Stinky Gym Clothes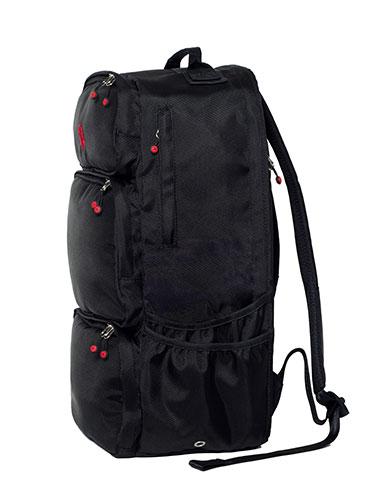 When you are rushing from home to work and gym and back home; it is simply easier to carry one bag for all your needs. But it is not easy to find bags that can meet this requirement. Imagine a Crossfit backpack for your gym class that can also double up as your office bag! Now, wouldn't it be nice?
The Stinky Problem
Now, wait a minute! Won't a Crossfit backpack filled with sweaty clothes spread the stench to other items you have in the bag? Can you afford to carry around the stinky mess of your workout gear with you?
The answers to both these questions are – not necessarily and definitely not.
Of course, you can't carry the stench of your sweaty clothes in your bag and let them mess with your office items and well, reputation. No one will like to be known in the office as the 'one who carries the stench in her/his bag'. You also can't afford to mix up your sweaty gym clothes and shoes with your office stuff.
The Smart Solution
To counter the above problems and to find a solution for one-bag-to-fit-all-needs, you need a bag that has been designed with these specific problems in mind.
How about a backpack that offers you an oversized compartment along with several smaller pockets and a chamber for gym shoes and clothes? Well, it may sound too good to be true! But such products exist in the market.
Solution 1: Different chambers to pack just about everything.
Solution 2: A separate vented compartment for sweaty shoes and clothes.
Finding the Right Bag
When you are keen to find the right gym bag with shoe compartment that can isolate your gym clothes and can have multiple uses, you need to look for features that separate excellent products from mediocre ones.
Design –
Look for a bag that offers at least one oversized chamber to fit big items comfortably. It must also have a separate padded chamber to safely store a laptop.
Then it needs to have a separate vented section to store gym clothes and shoes. You can pack your wet gym clothes, towels, socks, and shoes inside this compartment without worrying about the moisture damaging other stuff inside and the stench overtaking the bag.
But a gym-ready bag is more than just a compartment for sweaty workout gear.
The ideal all-purpose bag must also have smaller pockets for storing water bottles and other essential items. Bottle compartment is also useful when you use the bag for work travels or long commutes and need comfortable access to water. In the bag that you will use every day, you will also need sections to store jewelry and sunglasses when you are in the gym. The pockets also need to be fleece-lined to protect the delicate items from damage. Such compartments will easily help you store jewelry, watches, and expensive accessories that you may want to wear during the office hours and remove when working out.
The compartments must also be easy to access. You wouldn't want to dig around different pockets to find your keys or wallet.
The design of the bag also must be good enough for use throughout the day. Look for straps that don't dig into your shoulders. If the straps are adjustable, wide-enough, and contain padding then the design is perfect for your comfort.
Durability –
The material of the bag needs to be sturdy to handle everyday wear-and-tear and last you for years to come. Look for materials such as ballistic nylon that can weather rough elements and handling. It shouldn't tear up if you stow it inside the gym locker.
Style –
Now, when you have covered design and functionalities, it is time to consider another important aspect of an everyday bag. It needs to be stylish – no doubt about it. A backpack can be ideal in terms of storage and style factor. It looks trendy and is built for the active lifestyle. Backpacks are easy to carry and won't harm your spine when you wear it packed with a heavy load.