Black Forest Cuckoo Clocks – What You Need to Know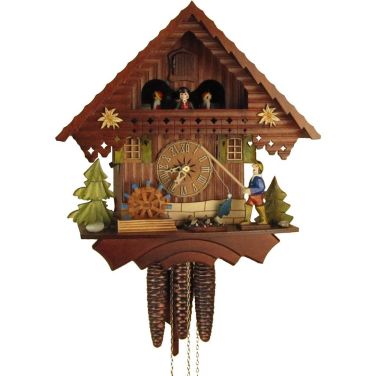 Black Forest cuckoo clocks represent authenticity, craftsmanship, and traditions not bound by time. There is nothing quite like bringing an authentic timepiece into home and watch it transform the space by its sheer presence. A Black Forest cuckoo clock has the power to do just that – transforming spaces with unmatched quality and artistry.
But before you invest in a Black Forest cuckoo clock, it makes sense to know a little bit more about these timepieces.
Authenticity of the Black Forest Cuckoo Clocks
Many brands make cuckoo clocks. But authentic Black Forest cuckoo clocks are the ones that follow the standards formulated and practiced by the clockmakers of Schwarzwald region (Black Forest region). The clockmakers and artisans in this region perfected the art of making the cuckoo clocks – the same standard is now followed by all other companies making these fine timepieces now. Authentic mechanical cuckoo clockmakers can even certify their clocks with the seal of approval (VdS) from the recognized association of Black Forest clockmakers, traders, and manufacturers.
Quartz or non-mechanical cuckoo clocks do not have the VdS seal even if these are quality pieces. Most manufactures who make mechanical cuckoo clocks also produce quartz ones. So, you can be sure of the quality of clocks if even not accompanied by the certification. For these reasons, it is important to always buy Black Forest cuckoo clocks from authorized dealers. Most dealers will be more than happy to answer your queries regarding the quality of the clocks, the certification, and the workmanship of the timepiece you wish to purchase.
Designs and Styles
You can buy traditional styles in Black Forest cuckoo clocks as well as contemporary designs.  Modern versions of the cuckoo clocks are made with the same precision as the strict standards of the Black Forest clockmakers.
Traditional styles feature chalets, wildlife, foliage, birds, and people indulging in activities such as fishing, merrymaking, or tending to the animals. You can have group of men and women dancing or working. These clocks depict normal scenes from country life that come alive with the call of the cuckoo. These classic designs are mostly made with intricate carvings, contain rich stains, and are dominated by the colors of the wood. The people and the life depicted in the clocks add colors to the rich brown shades.
Contemporary designs can contain geometric patterns with just the cuckoo as the centerpiece of the clock. You can find filigree patterns or two-toned stripes on rectangular or square clocks. The clocks can have patterns painted by hands for a touch of unique touch to each timepiece. These modern Black Forest cuckoo clocks are also available in colors not usually associated with traditional styles such as black, white, red, pink, and others.
The music in the Black Forest cuckoo clocks can include different German songs depending on the manufacturer. If you are particular about the musical notes in the cuckoo clocks you wish to purchase, it can be a good idea to inquire about the same by contacting an authorized dealership of your preference. You do have the option of shutting the sound off for the night in the cuckoo clocks.
Black Forest cuckoo clocks are mostly made with brass mechanical movements. You can choose different movements (8-day or 1-day) depending on your preference. Mechanical clocks are eco-friendly as there is no need for batteries for their movements.
Most Black Forest cuckoo clocks fit perfectly with both traditional and modern décor. You can place a geometric-shaped black or white cuckoo clock in your living room decorated with monochrome furniture. For a dramatic effect, choose a clock with two-toned stripes to sit beautifully amidst black or white furnishings. A classic style cuckoo clock can help you create a charming little corner in any room with its placement.
Cost
Authentic Black Forest cuckoo clocks are available at different price points. The price of the Black Forest cuckoo clocks depends on the design, movement, and the manufacturers' standards. Before investing in a cuckoo clock, browse different styles best suited for your home and budget.
With the sheer variety of cuckoo clocks now available, you are sure to find the right one for your home.