Five Tips for Buying Carpet Stair Treads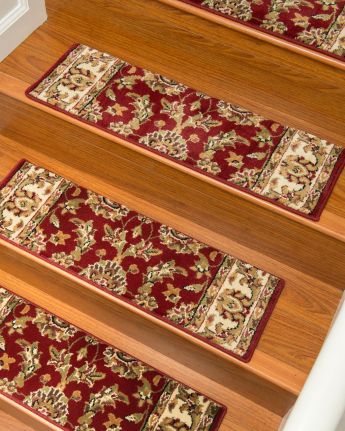 Carpet stair treads are more than mere decorating accents. These protective flooring options for the stairs can be a boon for families with young children, elderly, and pets. Carpeting makes the stairs safer to use. Use of carpet stair treads can also be kinder to your joints. Carpeting can also protect the stairs from wear and tear.
But it is important to buy the right carpet stair treads to enjoy the full benefits they offer.
Here are five tips for buying carpet stair treads.
Choose a store that offers customers the option to custom design the carpet stair treads
You may not like the patterns or designs of stair treads available in a shop. Perhaps you need different shapes of stair treads; something not readily available in stores. For this reason, it is important to buy carpet stair treads from stores that offer customers the option to customize the items they need.
Select the carpet material after careful consideration
With so many options for carpeting now available, it can get a bit (or a lot) overwhelming to select the material for the stair treads. If you buy without weighing your unique needs, you may end up with stair treads that are not suited for your home.
Choose natural carpeting materials such as seagrass if you wish to purchase tough and stain-resistant stair treads. Natural fibers are also perfect if you wish to use environment-friendly carpeting materials in your home. You can also choose synthetic materials such as polypropylene for long-lasting designs.
Buy carpet stair treads that are easy to install
Buying carpet stair treads can be still easier. But installing them can be really tedious if you don't think through the options for the same before buying the stair treads. Buy stair treads that are available for sale as separate pieces. You won't need to then waste your time measuring the material for each step or calling a professional to install them.
Most stores sell carpet stairs of standard sizes only. If the available size is not suitable for your stairs then buy the stair treads after customizing them for the size you need. If the standard size is too big or small for the stairs in your home then buying readymade pieces will be futile. It will also increase the hassle of installing them.
Choose patterns based on your home's décor
Choosing patterns for the stair treads can be rather fun with so many options now available. You don't have to settle for drab carpeting anymore. Once you have decided on the material and taken care of the size of the stair treads, select a pattern that will complement the décor in your home. You don't need to buy stair treads exactly matching with the color of the staircase or the nearby walls.
Choose contrasting colors to highlight your stairs in style. Buy plain blue stair treads to beautifully contrast it with the brown wooden stairs. Choose a pattern in gold and red to highlight your stairs in regal hues. Select plain black or brown stair treads for simple yet elegant options. Select wide or thin borders depending on the colors you wish to highlight on the carpeting.
Select the right style to highlight the stairs
Yes, carpet stair treads are utility items. But you can surely buy them in colors and patterns to simply beautify your staircase. So pay attention to not only the essential aspects of buying the carpet stair treads (installation, size, material, etc.) but also the colors, designs, and patterns at the same time.
You can even use two sets of carpeting to highlight the stairs. Use a brighter shade on the stairs with each consecutive step in a neutral black or brown piece of beautiful carpeting. You can even use a different solid color of carpeting on each stair.
When buying carpet stair treads, it can be a good idea to make a list of all the things you want in them before heading to the store. Even when you are buying the stair treads from an online store, it can help you find the right ones if you have thought about your unique requirements beforehand.