How to Find Best Gym Bags for Women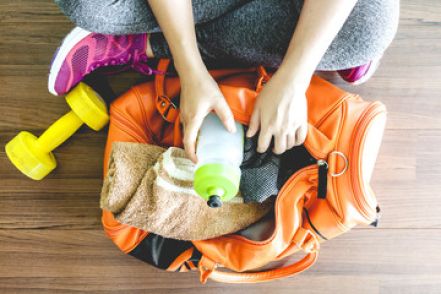 Women and bags have a special relationship. Shopping for gym bags require as much attention if not more than other bags that you shop for your everyday use. You need to find a bag that will not only help you carry your gym essentials really well but one that will also look really good when you carry it.
There is a stylish gym bag available for every budget. Consider the below tips to find your perfect gym companion who won't pester you to go the gym but will always accompany you if you tag it along.
Duffle it Up
Yes, the good old duffle bag works every time. You can buy a duffle bag to match your requirements in terms of storage and style. It is also easy to carry a duffle bag even if it is heavy.
Choose a gym bag with lots of small and big compartments just to make the storage easier and convenient. Even small gym bag for women have multiple chambers to help you keep gym essentials property sorted. So, choose a size based on your needs.
You can buy duffle bags with separate vented chambers for used gym clothes and shoes. You can also choose styles that come with easy-to-access yoga mat holders or padded laptop pads. When shopping for duffle gym bags, check the features to see if it can hold everything that you need to carry in the gym. Even if you really like a gym bag but it doesn't have proper compartments for your needs, you may eventually end up not using it for long.
If you need a gym bag that you can carry to the gym and beyond then look for multiple functions. If you need to take it to office or to run errands, it must have the space and the look for the place and the tasks ahead.
Back the Pack Up
Gym backpacks can look absolutely stylish and also do the job of carrying your essentials really well. Gym backpacks are perfect for women who are on the move all day long. Buy one that has separate sections for used gym clothes, shoes, laptop, and other big items. It must also contain multiple smaller pockets to give you easier access to your things throughout the day.
When buying gym backpacks, ensure that you only favor the strongest materials. You don't want to lug around a backpack in the city only to have it break apart in the middle of the street and scatter your things all over. Look for straps made with a material like ballistic nylon and with really comfortable padding.  A strong backpack can last for a really long time even with rough handling and regular use.
Use backpacks if you like to go away for the weekends frequently straight from the gym or the office. If you workout in the mornings, you can carry your backpack with you to the office and then head straight to your trip.
The backpack is for the rough handling and the casual use but with all the right attributes to be the ideal gym bag for women.
Tote it Just Right
Now, the tote! Tote bags work for every casual occasion and they are the perfect bags for gym use as well. You may prefer small gym bags for women. But when you need to carry more than a few items to the gym then a tote bag is perfect for you. Duffel bags can be a bit large for women who go for smaller gym sessions. You may also not prefer to use a duffel bag for all-day use if you need to head to work or elsewhere straight from the gym. In that case, tote gym bags offer the perfect solution for your needs.
You can use tote bags in really nice bright colors to jazz up your outfits when you are heading out after your gym session. Tote bags won't look out of place if you need to meet someone for brunch or coffee right after your workout sessions.