Know How to Buy the Best Gym Backpack with Shoe Compartment Online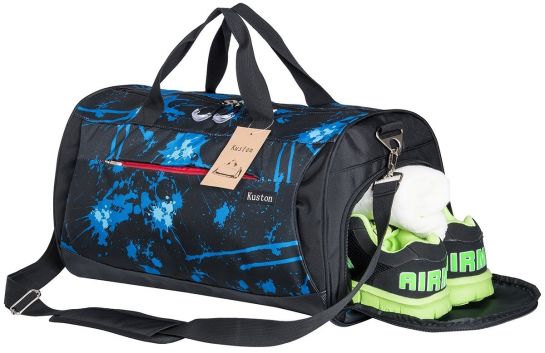 Let us do a reality check – probably your travel shoes have seen some stuff. Stuff you want to avoid like your clothes or laptop just because you only want to bring one single bag to the office on a particular day. Whether you are planning to tot along with your sneakers after your work-out session, switching from heels to comfortable flats during night, or planning to go for a weekend trip and just prefer a backpack to a duffel, a backpack with a shoe compartment will help in separating your smelly, sweaty or sidewalk debris flecked shoes from the rest of your essentials. Just because your backpack has a shoe compartment, there are also other things that make your backpack cool.
Here we have put down some features that you should look when buying the best gym backpack with shoe compartment.
Size of Your Shoes
People with feet having larger than average size, you should pay attention closely to the shoe compartment on your preferred gym bag. Inside a typical shoe pocket, an average person's footwear will fit easily, but if your feet are larger than the average one or you need to wear wide shoes, check for the dimensions. Another thing you can do is go through the product reviews to check if anyone has the product has larger feet and feels satisfied.
Two or One Pairs
Most backpack with shoe compartment will easily fit a single pair but if you do a little research, you will get a bag that fits two pairs. If this is what you are looking for, then do proper research. An average person only requires a single pair of gym shoes in their backpack.
Shoe Compartment with Ventilation
The best gym backpack with shoe compartment will be made in such a way that this designated section should be ventilated. It is common that your footwear will stink if you are working out wearing it and not using any cream or talc. A compartment with ventilation will help in dissipating the odors thereby ensuring that your feet do not smell bad during your workouts as well as your bag does not start to stink excessively.
Style of the bag
Consider taking some time for your ideal style bag. Some prefer designer look like a weekender bag while some prefer backpacks yet others choose duffels. Always remember that that the bag you will be choosing should be easy for carrying regardless of the style. For your comfort, check that the straps should be padded.
Space for Laptop
Not everyone requires, yet some people want a gym bag for putting their tablet or laptop. This will help in preventing to carry for an extra bag when going to the gym studio and allow you to use the same bag for both work and gym. If you want to put your laptop in the gym bag, check that it not only fits but also has a padded sleeve or compartment for it.
Wet Compartment for Toilet Essentials
The best backpacks will be having a designated wet compartment which is waterproof. This is the best place for keeping your wet towels or toiletries. It is also handy for swimmers or others whose exercise involves water.
Size of the Bag
Please check the overall size of your gym backpack. Make sure that you can store all items that you need including your towels, clothes, shoes, toiletries as well as snacks. And the last thing is you want to fit your bag easily in the gym locker.
Water Bottle Carrier
Simply you can always stick your water bottle inside the bag or clip it onto the side, it is best to choose a bag that has a designated water bottle carrier. In this way, it is easy for you to access the bottle and be hydrated in seconds.
Strap for your Yoga Mat
If you are using a yoga or exercise mat, it is best to look for a bag that has an external set of straps for holding your mat. In this way, it will be easy for you to carry all the gears in the gym comfortably.