Steps for Buying Traditional Floor Clocks Online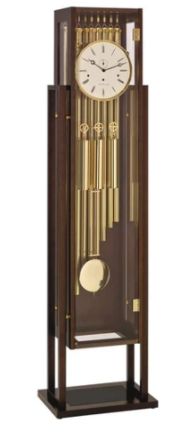 What are Traditional Floor Clocks?
There is something very appealing about traditional floor clocks that makes it almost vintage. One such admired floor clock is the Grandfather Clock, a classic clock model that is definitely considered classy. Even though in today's day and age, a clock doesn't seem to be an appropriate buy, getting your parents (or grandparents, for that matter) a grandfather clock only seems fitting.
Believe it or not, many youthful people are also buying into the idea of "throwing it back" to getting vintage items to decorate their homes, one of which is a traditional floor clock. There's no denying the fact that it is extremely gallant: weaves a tale of a different time. Ideally, a traditional floor clock refers to a clock model that features weights and a long pendulum within itself. Mostly when people think of "traditional floor clocks," they're picturing grandfather clocks!
Buying Yourself a Traditional Floor Clock
Decorating a room (particularly, a living room) can involve lots of things. But many argue that it could never be complete without the final touch of a fine grandfather clock (or any other traditional floor clock, for that matter).
Now, when you're looking for them online, the biggest tip anyone could give you is to take your time. Consider at least 4-5 options before making a purchase, based on personal preferences, cost, and model comparisons. Remember that charm and elegance is something that comes along with a traditional floor clock by default, so make sure to nail the rest of the factors just right.
The good news is that there are plenty of options to choose from, so you can take your time to make a decision. Some of these options include classic, traditional, contemporary, and futuristic styles. Especially when you're looking online, prepare to go through an exhaustive search of various styles, some of which you've probably never heard of. But here are some questions you need to ask yourself before making the purchase:
1. Where Am I Going To Place It?
Unless this is an impulse buy that doesn't serve much of a purpose, looking for traditional or modern floor clocks online must be thorough. You must ask yourself where you'd want to place the clock because that in itself solves half the mystery. For instance, a grandfather clock or a long-case clock would look best in the entry-way or the foyer of your home. The same clock would not be as boastful if it were placed in, say, the study or den.
Considering that most grandfather clocks are close to 7 feet in height (give or take a few inches), this attention-grabbing piece of furniture needs to be placed in the right place. Therefore, carefully consider the different locations in your house that would be ideal for a traditional floor clock and browse through clock models accordingly.
2. Will I be Using It For Other Purposes?
Believe it or not, a traditional floor clock serves purposes beyond the basic aesthetic appeal. Consider the example of a basic pendulum clock. Consisting of anchors, hanging weights, a pendulum, and a long cabinet case, many people consider displaying valuable keepsake items in the pendulum clock! The oversized glass front is something that can be used to boast certain items (that seem appropriate to be stored in the long cabinet case) and used to be a common practice for many upper middle-class families. Figurines, family photos, and picture frames are some examples.
3. Is This a Long-Term Investment?
Most likely, your answer will be yes! Warn you, traditional floor clocks can be pricey, so try comparing models online, rather than sticking to an impulse buy. The clock's features, size, age, and brand can cause major variations in price.
4. What Do I Like?
And finally, once you've sorted out all the technical details, go for your personal preferences.
Traditional floor clocks could be quartz, chain, or even cable-driven: take your pick! Remember, it would typically be best if you read up on each type (if you don't know about them already) instead of making a random choice. Most traditional clocks are made of wood, but the sub-choices are endless. For instance, it could be made of cherry, oak, pine, or beech. Whichever seems best to you aesthetically and quality-wise, go for that one. Crowns on traditional floor clocks used to be a big thing in the past: there are bonnet, arched, federal, and flat tops. This gives your clock a unique look on the top! Again, take your pick!