The Beginner's Guide to Buying Stylish Women's Underwear Sets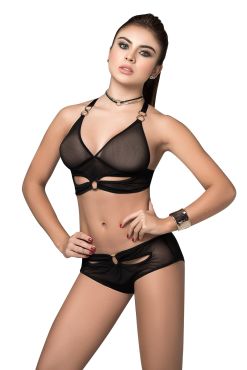 Wearing underwear sets can be the ultimate luxury that you can indulge in every day. Women's underwear sets are available in such sheer variety that you can never buy enough. From umpteenth styles, fabrics, and colours; it can also be confusing for first-time lingerie buyers to decide on the right pieces.
You can consider these tips to buy women's underwear sets that are just right for you.
Start from the Basics
Women no longer have to relegate lingerie sets for special occasions. You can now buy women's underwear sets for everyday use as well. Choose colours such as white, beige, grey, and black in simple styles to go with your work outfits.
In terms of materials, you can opt for cotton and blended fabrics. Nylon mixed with polyester can offer comfort and stretch. You can also buy everyday lingerie sets in simple satin or silk without any frills. Opt for plain bra cups that won't show underneath your work outfits. For casual wear, you can look for some add-ons such as crisscross bands, use of simple lace on the cups, or velvet trims. It is a good idea to stick to bikinis and hipsters for casual underwear.
Add Just a Hint of Indulgence
If you wish to make your everyday lingerie a bit more indulgent then buy lace sets that are soft and not over-the-top. You can buy bras and panties in a combination of lace and mesh with delicate designs.
Floral sets with lace trims are another option for you. Choose from different shades such as pink or blue floral designs in black lace bras paired with thongs. Buy sheer sets in lace in varied shades of red – for your own secret indulgence when out and about on a casual outing. Keep the style free of embellishments so that they are not visible under your fitted tops or dresses.
For simple yet fun indulgence, buy mesh underwear set in colours such as soft pinks and blues. Such sets are ideal to wear with both casual and party outfits. You can feel like a sexy diva with elegant yet naughty underwear sets that are not flashy or encumbered by multiple design elements.
Go All Out
Once you have mastered the basics for your lingerie style and enjoyed a bit of naughty indulgence; it is time to go all out and buy sexy underwear sets for different occasions. Choose from strappy pieces in full lace or barely-there cups. How about halter bras with high-waisted panties for an old-world sultry charm? Full cup bras in lace paired with thongs offer the perfect hint of naughty with ample comfort for the user.
For variety, choose high-waisted panties with hooks or tie-ins paired with lace tops or full-cup bras. Choose bralettes, demi cups, and camisoles to add more fun items in your lingerie wardrobe.
Buy luxurious women's underwear sets in fabrics such as nylon mixed with spandex. Pair your lingerie sets with stockings and garter belts to add more oomph to your style.
For special occasions such as weddings, honeymoon, or anniversaries; you can match the underwear sets with your outfits for the day. Buy white fitted underwear and bra to wear under the wedding gown so that they do no mar the silhouette of the outfit. Mix soft palettes with bold colours to use during your honeymoon. For special occasions, try something you haven't tried before.
Some More Tips
– When it comes to lingerie, focus on your personal style rather than what looks on a model. You need to feel comfortable in your skin to look beautiful.
– Experiment with colours and styles to keep upgrading your lingerie wardrobe. If you have never tried thongs, begin with basic black ones and take it from there. The same applies to your use of lace or mesh underwear sets. If you normally do not wear bright shades when it comes to lingerie; try and experiment with crimson, midnight blue, or bold pink. These shades have the ability to enhance all complexions.
– Surprise yourself with bold choices to keep your lingerie style from stagnating.