The Perfect Gym Bag for Men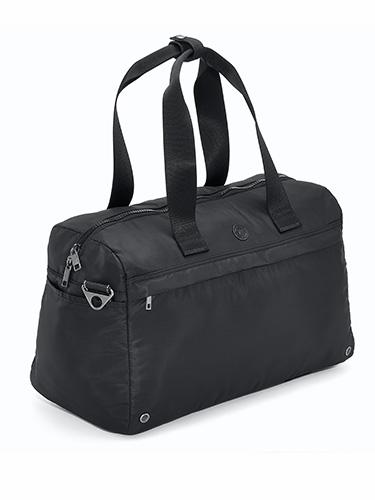 The perfect gym bags for men combine style and function with oodles of versatility thrown in for good measure.
Functions
Gym bags have come a long way from one-size-fit-all bags to the ones that match your workout routines and lifestyle perfectly.
Bags with multiple compartments in different sizes are perfect for on-the-go men. You can buy bags with smaller compartments to store your wallet, headphones, and sunglasses safely stowed away. If you are going to use one bag for the entire day, you may want a bag with a separate chamber for sweaty gym clothes. Many bags now come with separate vented compartments for shoes and workout clothes. These bags are ideal for everyday use but especially if you are not heading home straight from the gym.
You can also buy a bag with removable pockets that fit into one large compartment. Such styles can be incorporated into smaller-sized gym bags but with all the different storing needs sorted.
If you carry a lot of stuff, you need a gym bag with really sturdy straps and external material. Ballistic nylon and polyester are good options for really strong and durable gym bags.
If you want to use the gym bag in the office too, you need a bag that won't look out of place in the workplace but also serve various functions. Look for really good quality bags with enough space for all your workout and office needs.
Style
Duffel bags are popular with exercisers. But you don't need to use boring duffel bags any more. Choose a large-sized duffle bag that can contain all your gym essentials and also look good when you carry it.
Duffle bags are ideal if you need to carry a lot of stuff for the gym or different workout sessions. Gym bags for men need not be large-sized only. You can choose a size based on your storage requirements. You don't need to carry around a big gym bag if you don' really need one. Medium-sized and small gym bags for men can also look good and can be perfect for those who go for short workout sessions a few times a week only.
With duffel bags, you can choose styles that can double up as your travel bag. Many brands now make gym bags for the busy professional men. So, you need to simply pack one bag for a grueling gym session one Friday morning, finish the work in the office, and head straight to your weekend trip at the end of the day – ready for a Monday of exercising and office without any fuss.
A stylish alternative to the dependable duffel bags is the backpack. Gym backpacks are fashionable as well as practical. You can use one with separate compartments for sweaty clothes and shoes and go from the gym to the office or straight to your day of fun.
If you are looking for versatility in your gym bag then a backpack packs plenty of it. Backpacks are also ideal gym bags for men if you frequently go on weekend hiking or short adventure trips.
Some Additional Buying Tips
– Choose a bag that is ideal for your exercise routine as well as your personal style. Your gym bag should look good when you carry it. But it must also serve its basic function. If you workout for longer hours and exercise with weights, you may want to buy a large duffel bag with enough space for extra clothes, socks, towels ,and snacks along with your regular stuff. The more you sweat it out in the gym, the more items you need in the bag to be remain comfortable for your entire routine and afterwards.
– The basic black, gray, and tan colors work with all outfits. But if you want something brighter, gym bags for men in brighter shades such as blue, red, and orange are also available. If you prefer bold colors, don't hesitate to try one for your gym bag.
– Always pay attention to the quality of the bag. You don't want to carry around a gym bag all day with you if it looks worn out.