Tips for Buying Jeep Speakers for Your Needs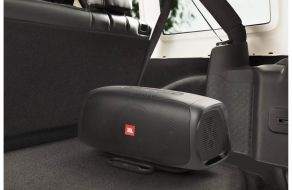 There is a multitude of ways to add new life to your music in your jeep. But new speakers provide the most cost-effective and fastest ways to upgrade your sound.
However, shopping for speakers for your Jeep can be challenging. Whether you are looking for a Jeep Gladiator speaker upgrade or want to buy speakers that can handle a lot of power, the selection process is tedious and time-consuming. That's why we have done the legwork for you.
Here are some tips on buying the right speakers to meet your audio requirements.
Do Not Ignore Speaker Materials and Design
The materials and design play a crucial role in determining the sound quality of the resilience of the unit. The right ingredients in your Jeep's speaker system can make a big difference. Let's take a look at them.
Woofer Cones
Factory speakers that play bass response are typically made of polypropylene or paper which degrades over time. Aftermarket Woofer cones are made of durable materials that lightweight and stiff. They are designed to shift easily yet hold their shape for more accurate sounds production.
Tweeters
Whether you are looking for a Jeep Gladiator speaker upgrade or looking for a completely new speaker, tweeter's design and material play a significant role in the type of sound it produces.
Tweeters push fine details forward like solo violins and voices. Typically, tweeters made of soft materials such as silk, textile blends, or poly generates sound somewhat mellow and refined.
If you prefer the highs bright and snappy, opt for hard materials like graphite or metal. Metal tweeters provide excellent clarity and very detailed response, but you may find them a little harsh sounding. On the contrary, silk dome tweeters generate smooth sound, but they cannot produce the same level of clarity you get with metal tweeters all the time.
Covering Materials
Do not forget to check the material surrounding the woofer as it enables the woofer cone's free movement and creates a captivating sound.
Ensure the covering materials you plan to purchase can withstand humidity, intense temperature, and other extreme conditions. Rubber-made materials can offer you the utmost experience and service.
Look for Sensitivity
A speaker's sensitivity specifies its loudness in a non-echoing space or room space. Some companies conduct the measurement process in a familiar room environment, while others indicate the sensitivity measured in a non-reverberant place.
The higher the sensitivity rating of your speaker, the louder the sound will be. If you have a lo-powered stereo with a lo power handling capability, you should go for a speaker with a sensitivity rating of over 90 dB.
But if you have high power with a power handling capability of more than sixteen watts, opt for a speaker with a low sensitivity rating.
Check Sound Quality
Sound quality is one of the critical issues that purchasers deal with when buying a jeep speaker or looking for a Jeep Gladiator speaker upgrade.
Sound quality is your personal decision. It varies as we all have different tastes. What sounds average to you may sound extraordinary to someone else.
Pay attention to the frequency range to identify the sound of your preferred speaker.
Determine the Cost to Upgrade
Cost to upgrade is one of the most important things you need to look at while planning for a Jeep Gladiator speaker upgrade.
It depends on several factors, including the brands you choose, the make and model of your Jeep, and what you want to add or replace, etc.
The best way to find out is by consulting with a Jeep installation specialist who can evaluate the upgrade you are looking for and recommend based on your budget and requirements.
Dot Not Ignore Speaker Cabinet
Opt for a dense speaker, primarily those that are made of wood. Try to avoid light materials because it affects the highs due to vibrations that the speaker emits.
This doesn't mean that you always need speakers with a wooden cabinet. But they must have a cabinet made of solid material.
Make sure that you consider the factors mentioned above as you plan to go for a Jeep Gladiator speaker upgrade or shop for a completely new speaker to address your audio system requirements.