What to Look for When Buying Grocery Tote Bags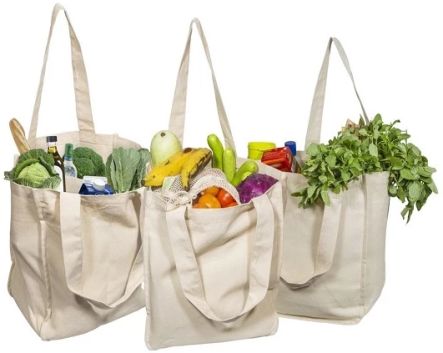 As people are becoming conscious about their choices, they are switching to the environment-friendly alternative of plastic shopping bags. However, many people don't have much idea about what to look for when buying grocery tote bags. And also, they want to buy the right bag in first go because it costs a few dollars and nobody would want to waste money on a tote bag. Therefore, it is important that you should know what to look for when buying a grocery tote bag.
Material
This is the most important thing that you need to carefully choose while buying a tote bag. You have many eco-friendly material options available, such as paper, cotton, canvas cotton, and bioplastic. But it is not only about the ecology; you have to consider the economy as well. You would want a bag that offers high value for money. Cotton is one such option that offers high value for your investment. Cotton bags are reusable, durable, washable, and strong. Paper bags are ecologically good, cheap, and durable as well, but they are not strong enough and ideal for toting grocery items. If they get wet, they will be of no use. Also, if you are reusing your grocery bags, you would want to wash it every few days to keep it hygienic and clean. That's why cotton tote bags and cotton mesh tote bags are the ideal choices for grocery tote bags. You can clean it, reuse it, and it lasts for hundreds of uses.             
Size and strength 
Size and strength of the bag is another important factor that you need to consider. And when it comes to both, cotton grocery tote bags provide you both. Cotton bags are usually larger than plastic bags and can accommodate more stuff. Also, they are strong enough to carry plenty of grocery items. However, it will be mentioned on the bag how much weight it can hold. To choose the right size of the bag, keep in mind that it can be used for various other purposes as well, like carrying shopping items, large items, and books or carrying items to the beach. Also, make sure the handle of your cotton tote bag are strongly reinforced so that it would not come off.    
Appearance
Most men prefer functionality overlooks while buying a grocery tote bag, but as grocery shopping is usually the responsibility of women, looks matter a lot. If they don't like the bag, it will find a place in some corner of the house. So pay attention to how your grocery bag looks. Look for a bag that you would love carrying on your shoulder while buying groceries at the supermarket. You have a vast range of design options available in cotton bags. And if you want to go one step ahead, you can custom print your grocery bag as well. And believe me, printed cotton grocery bags look super cool.         
Price
Last but not least; price plays an important role. If you compare the price, to be honest, cotton bags are expensive, but they can very easily justify their cost which other alternatives may find difficult to do. The only condition is you buy a high-quality cotton bag. A good cotton bag can last for hundreds of uses, reusable, durable, and strong. Other eco-friendly options lack these properties. So if you are the type of person who values functionality over price, then cotton bags are ideal for you. If the price is an issue and you are looking for a cheap eco-friendly alternative, you can opt for paper bags. But, cotton bags offer more value for the price than paper bags.             
So these are the four key things you need to look for while buying grocery tote bags. 
So are you ready to shop for your grocery tote bag?