Why Watch Cases are More Useful Than Ever Before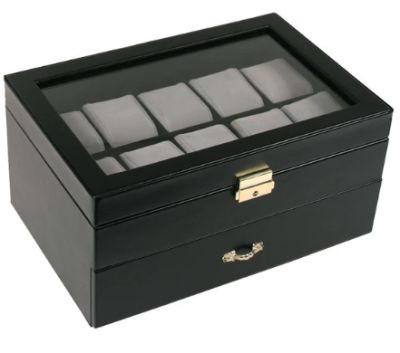 Watches have always been a great accessory to strap on, be it as an elegant accessory for your Black Tie event, a routine grab on your everyday work schedule or a rugged, rough-use gadget for our more sporty days. With time, it has become quite the status symbol to own watches such as a Rolex or a Patek Phillipe.
It shouldn't come as a surprise, then, that the industry not only makes a great deal of their priority merchandise but a great deal of money goes into the making of storage options in varying shapes and sizes.
Here are some of the reasons the Watch Storage Box industry is booming today:
Is this your first watch?
Is this your very first watch? Chances are, the minute you try on that very first luxury watch, you are changed. The class and elegance that oozes off you are addicting, and you may just as easily be caught in the grasp of collecting watches.
While you may take your time collecting, you will definitely want a place to store all these marvelous pieces, so that you don't lose track of them.
So you see, a Watch Box is an essential part of any watch collector's possession.
A case for all sizes
Watches come in all shapes and sizes. It is, therefore, crucial to find a case that will fit all watches. Most popular watch case manufacturers take this into account when designing the case—allowing enough buffer space between sections, ensuring space between the storage space and the top of the case, in case of a chunkier watch, fluffy watch pillows big enough for your bigger watches to fit snug. These cases have become wildly popular among the watch-enthusiast community.
Do you travel a lot?
In today's day and age, it is almost too common for someone to be in the air, jumping from continent to continent for both work or pleasure. One must, therefore, be ready for all events—both important business meetings, the celebratory cocktail dinner later that night and a relaxing day in the sun on the weekend before your return. A watch for each occasion must, therefore, be a part of your luggage essentials. A case that is compact enough to place in a suitcase or handbag while also being able to carry a watch for each occasion is therefore much sought after.   
Do you own a top of the line Automatic winding watch?
If you are an avid watch collector, you either already own a high-end automatic watch or definitely have it on your bucket list. An external weight such as the movement of your hand is what gets the gears inside moving in these watches. These watches are by no means a 'daily wear' watch and therefore, must be secured. These watches require a special "winding watch box" which is basically a watch case whose pockets turn with the help of a motor, to allow the watch to wind, even when not worn. These cases are a must-have in case you own an expensive watch.
Is this a gift for someone you love and respect?
One can argue there is nothing classier than a good watch, be it for birthdays, an anniversary or a retirement celebration for a respected colleague. How about a good watch in a beautiful, custom-made case?
Customizable watch cases have become a very popular gift idea and it's not hard to see why. A sleek case to put your watches in, perhaps monogrammed or engraved with a special message is something so useful and beautiful, you simply cannot go wrong here!
Are you and your spouse going to share one case?
Just because you aren't a collector does not mean you have no use of a watch box. If you and your significant other have more than a watch each, you already need a place to store them. Bam! You too need a watch case. Not all watch cases are expensive and therefore, it does not always have to be an extravagant purchase, but one of convenience and functionality. A watch case may simply be a storage place for your watches to keep them away from moisture, dust and other potentially harmful exterior factors.
In conclusion… Protect the watch you spend so much on!