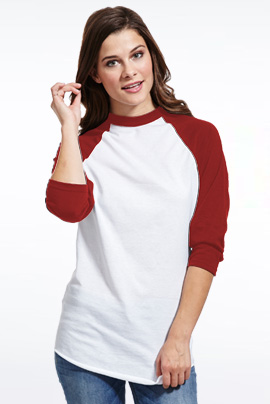 Fraternities are all about brotherhood and celebrating the spirit of your Greek organizations by living the motto that your organization stands for. On any occasion that you join hands with your brotherhood, it is ideal to wear fraternity apparel to show your love and bond with the organization and to instill greater pride in every member. Read on to know more about such fraternity clothing, how to buy them, and what's trending among these days.
What is fraternity apparel?
Fraternity clothing constitutes any kind of regular apparel that you wear but customized with designs that represent your Greek organization in some way. This is typically done by decorating a garment with the insignia of your fraternity, the name of your organization, or the Greek letters that make its name. Popular fraternity wear includes button-down shirts, crew neck t-shirts, vests, full sleeves t-shirts, zip-up hoodies, pullovers, vests, shorts, running pants, etc. The decoration or embellishment typically happens through print, which may be screen printing or heat transfer printing (as seen on foil prints). Other choices include embroidery and hand lettering.
How to buy fraternity apparel
You can shop for fraternity apparel in two ways. The first is to buy readymade collegiate clothing for your chapter from a vendor who sells Greek clothing. Such suppliers typically are licensed to use and replicate insignias, names, and letters of Greek organizations and to combine them with motifs, graphics, or patterns to create interesting apparel designs. The advantage of shopping for ready-to-wear Greek clothing is that you can buy them in smaller quantities, say to gift a member, or for a smaller gathering of people. It's also less tedious than creating something of your own, and you get the merchandise shipped immediately if it is available in stock. The second way is to place an order for customized fraternity apparel. This is a better choice when you need a bulk order and have a specific design in mind. Such orders can be placed online with vendors who specialize in the same. The process includes some quick and easy steps such as choosing your apparel type (t-shirt, hoodie, track pan etc.), garment style (crew neck, long sleeve, with pocket, zipper etc.), and color (white, black, red, pastel shades etc.) followed by sharing design details (a hand-drawn image or a soft image or pdf of the design to be embellished) and choosing the decoration type (print, embroidery, hand lettering etc.). At the end of this process, the vendor gives you a price quote, also based on your order quantity. They also detail out terms and conditions plus additional charges that may be levied for developments, design changes, faster turnaround, shipping, and so on. Once you are satisfied with the price quote, you can go ahead and place the order.
Trending designs
Fraternity apparel, like other kinds of clothing, is influenced by seasonal fashion changes. Here is a look at what is trending among fraternity wear currently.
Contrast pockets
Pockets commonly found on button shirts are now present on casual wear like t-shirts and tanks and are all the rage among fraternity apparel. However, they come with a trendy twist. Instead of being made in the same color as the body fabrics, pockets bear contrasting shades and serve as the base for logo and alphabet prints for Greek organization names. It's not just solid colored designs that are trending – brotherhoods are embracing those with multicolor stripes, print designs, and lots more.
Mosaic patterns
Mosaic patterns within Greek letters in two or more colors are yet another favorite in fraternity apparel. They are typically used as a filling for organization names, Greek letters, and simple texts that would otherwise look boring in a single-color screen print. Mosaic designs may be based around lighter and darker shades of the same color or have multiple contrasting hues present.
Animal graphics
Driven by the wanderlust theme, large animal and bird silhouettes and graphic designs are becoming popular on fraternity apparel. Lions, bears, eagles, snakes, bulls, phoenixes, and many others can be seen adorning t-shirts, tanks, and hoodies right above Greek organization names.
Other trending themes include artist and music-based prints, comic-based graphics, funky lettering, motivational quotes, etc.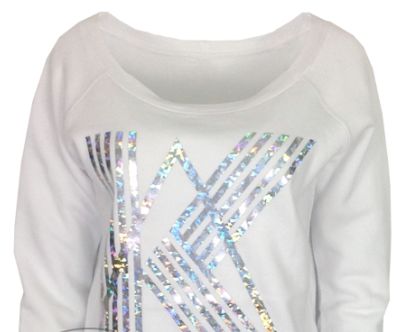 A customized Kappa Delta apparel is something that you wear to display your affinity for the Greek organization as well as the pride of being a member in the sorority. You can wear such clothing to many occasions ranging from chapter meetings to mixers, date nights, classes, or a fun hangout with friends. The best place to pick customized Kappa Delta clothing is from an online store. But before you place the order for your favorites, here are three things to keep in mind.
# 1 – Choose clothing that is appropriate for the occasion
It's understandable that you want to make a great impression with the customized sorority clothing that you wear, but the last thing that you want to do is put on something that is not appropriate for the event or occasion. Before you decide what your favorite is, think about when and how you would wear the Kappa Delta apparel that you buy. A formal occasion like a graduation ceremony or an interview calls for crisp clothing like a button-down shirt and suit or blazer. A semi-formal occasion like a fundraiser is an event to sport your embroidered crew neck sweater in. A casual event like a date or a sleepover with your sorority sisters is the best time to wear a tank top, a cozy tee, or a pajama. A party or a mixer calls for something more trendy and vibrant. These are occasions to flaunt your tie and dye tops, V-neck graphic tops, spirit jerseys, and all-over printed bottoms in.
# 2 – Ask for assistance from a design or style representative
Customized typically means creating your design from scratch. However, this can be a tedious and cumbersome process, if you are not great with sketching images or choosing colors. In such a scenario a design or style representative or assistant who works with the vendor can come to your rescue. He or she is a person who understands your needs and is capable of bringing any design to life, no matter how crazy or odd it may be. The rep is also someone who can help you choose the right kind of clothing, its color, size, fit etc. without hassles.
Additionally, the person can assist you with choosing the right kind of technique to embellish your dream design on to the Kappa Delta apparel – prints, embroideries, hand lettering, and so on. He or she is also someone to go to when you have unique needs, say a distinct color to be developed or a tiny detail to be added to the clothing piece.
# 3 – Stick to your budget
You can be spoilt for choices with customized Kappa Delta apparel. However, that should be no excuse for you to overshoot your budgets when placing an order. The money could be something that you shelled out with hard work or something that your sisters pooled in for a cause, so be wary as to how you spend it on the sorority clothing that you've always wanted. Customized clothing gives you flexibility. Before you place an order, ask for the price quote from the vendor. If it exceeds the set limits, ask for changes that can bring down the cost. This could be choosing a different fabric quality, removing color from the print, changing the size of the design, or discarding a special feature from the garment. Good vendors will be happy to give you choices that fit your pocket. They can also give you inexpensive options, which don't look cheap. Paying attention to these three things can help you purchase the right Kappa Delta apparel for your event, at pocket-friendly prices. Also, when placing the order, choose a professional vendor to ensure that the entire ordering process happens in a timely yet hassle-free manner. Working with such a team lets you worry less about your order and spend more time with your sorority sisters as you dream designs are brought to life.
Sorority Shirt Designs
It is vital that sorority and fraternity members must wear apparels, which have the imprints of the symbolic representations of their respective groups. In spite of this factor, one can make the sorority shirts innovative and cuter by diverse methods like printing extra designs, adding new color combinations, etc. To get a better idea about the various sorority shirt designs and the possibility of getting extra unique designs, you can opt for the services of the style representative provided by the merchant.
A Guide to Buy Sorority Shirt Design on E-Store
• Choose a dependable merchant, who has rich experience in the related field. The company must have experience in supplying the requirements of the various sorority and fraternity student communities, corporate, and all other related groups, who are in need of Greek gear, sorority, and fraternity t-shirts, and the related products. Besides, it must hold the official authorization for the Greek licenses. Such merchants will show the related official stamp in their websites.
• You must make sure that the company applies modern techniques for the imprinting process of the Greek alphabets and the other symbols. This is vital and will decide the quality of the printing. Remember, substandard imprinting will make the t-shirt simply clumsy.
• The screen printing process must be totally eco-friendly; you must be free from the clutches of harmful chemicals. Besides, the company must also be proficient in providing sorority and fraternity clothes such as embroidered Greek apparel, custom twill, half and long sleeve t-shirts with Greek emblems, hoodies, jerseys, tank tops, etc.
• The company should provide the assistance of style specialists. This will be highly useful for you to create unique sorority shirt designs, without deviating from the group stipulations. You can stay within the conditions of the group, and at the same time, can wear exclusive sorority apparels.
• The customer service must be super. You must get quick responses on your queries. Remember, at times, your requirements may have an emergency nature. During these times, the sales attendant or the customer service team must not slow down the processing of your order or must not give vague replies.
• The merchant must be willing to give customer-friendly services like free customization. Only by customizing the sorority shirt designs, you will be able to phase in uniqueness.
• The designers of the company must be capable of bringing your design ideas into life without any compromise on the quality of color, style, and printing.
• The company must be willing to offer free packing and shipping facilities. Many of the present-day sorority apparel dealers provide this service.
• Yet another significant point to note is the promptness of the company in the processing and sending the ordered items. The items must reach you on or before the agreed time without any deviations from the sorority shirt designs that you have selected.
• The company should provide a live chat option, which will give you the chance to communicate with the support or sales team of the company. Through this direct interaction, you will be able to pass on your requirements correctly to the team concerned.
• If needed, you can also discuss with the designers for fulfilling your objective of getting unique sorority apparel.
• The merchant must be ready to give instant quotes. This means the professionalism of the company, and you can trust such a company. They will have the professional ethics to take care of the interests of the consumers at any cost. This will help you to compare the services provided by different sorority apparel merchants and to choose the best option.
Finding a Reliable Company
You can consult the other members of your group or the group leader. Another practical way is to search through the internet. Here, you can find various sorority cloth dealers. You must compare the services offered, the price tags, and the customer service provided. However, you must select an experienced and established company that has adequate experience in dealing with the sorority shirt designs. For this, you can take into consideration the reviews of the existing customers.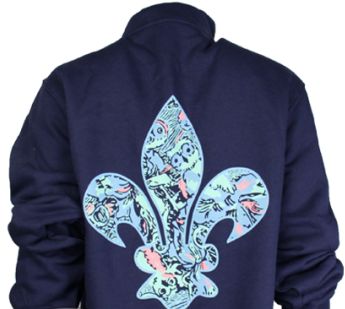 Kappa Kappa Gamma Apparel
College or university lives are highly significant in one's life and will help to shape up the future social life of the individual concerned. In line with this idea, these days you can see various social associations that are relevant to student communities like the sorority and fraternity groups. Joining such groups is highly significant as far as both boys and girls are concerned. This will boost up their confidence level, which will enhance the quality of their personal life. Consequently, boys and girls come forward and join such groups. When one enrolls in a group, then it becomes a necessity on his or her part to abide by the general set of laws set by the group. Wearing the right kind of apparel, while attending the group's activities and functions, is one such rule.
Kappa Kappa Gamma, the popular collegiate sorority has several collegiate chapters spread around in the USA and Canada. Members of this group must wear appropriate Kappa Kappa Gamma apparels in order to participate in the group activities. The group conducts several programs in the arenas of charity, leadership, mentoring, various social service activities, etc. Girls from several universities and colleges show a keen interest in joining this group for varied reasons. Some join because they are very much keen in the various charity works. Some others are interested in gaining leadership qualities. Taking part in the vibrant social activities will be the interest of some others. The group activities are practically handy for the students to gain thorough social-awareness and thus to shape up their personal character. Enrolling in such groups will also enhance the value of the curriculum vitae, which will directly help to get good jobs. Let whatever be the reason behind joining in the group, it is essential to wear Kappa Kappa Gamma apparel that carries the imprints of the official symbols of the group, while participating in the group activities. The imprinting of required Greek alphabets and symbols is a must in all kinds of sorority apparels like the sweatshirts, long-sleeves, tank tops, t-shirts, jackets, etc. Besides, you must also buy the various sorority accessories such as hats, bags, water bottles, necklaces, bracelets, graduation stoles, stickers, flags, etc. Pragmatically, this will be useful to bring in an altogether group identity in your dressing pattern. Indeed, such a dressing style will boost up the overall mood and morale of the other group members.
Buy Kappa Kappa Gamma Apparel from Leading Merchants
Are you in need of custom-made sorority apparels like the half zips, long sleeve t-shirts, sweaters, or sorority accessories like the commemorative plates, water bottles, etc., with the imprints of your group's emblem? The best way for getting these items and that too with utmost manufacturing perfection is to buy the items from a leading merchant. By this way, you can get all the desired items from one shop itself, and this will save your effort and time.
• Such merchants will be customer-friendly websites, in which everyone can enter, see the products, and order easily. Any casual visitor will find it easy to place online orders. The entire processes, including the payment options, will be easy.
• Established sorority cloth merchants will have thorough knowledge about the various sorority and fraternity groups. They will be having the practical experience of dealing with several student communities, and hence will be able to design highly attractive sorority dresses like the Kappa Kappa Gamma apparels.
• You will get the assistance of style specialists to design your sorority apparel, and this will be practically helpful to you. Such professionals will be fully aware of the different contemporary styles and will be able to bring in innovative designs, which will make the apparels unique.
• The customer service will be superb, and you can expect the fullest cooperation from the company in all matters and phases of shopping. Hence, the overall shopping process will be pleasant.
The best practical way to locate a reliable sorority and fraternity cloth merchant is to search through the internet platforms. You can check with different online traders and opt for the best one.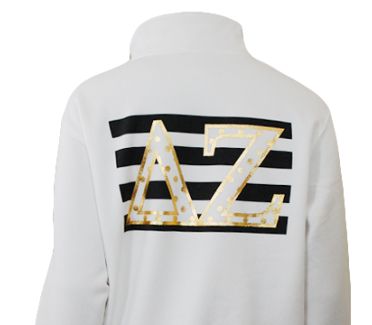 Delta Zeta Apparel – Buy from Established Merchants
Delta Zeta is a significantly large Greek organization in our time, which holds a large number of members presently in the college level and alumnae. The activities include philanthropy-related activities. This not-for-profit sorority offers different types of scholarships for its members, apart from conducting various philanthropic activities. It also conducts diverse leadership and educational programs. It's more than a century since the group was born; the exact year of its birth is 1902. There is a rich tradition for the group, and Delta Zeta apparel must project this grand sorority friendship. Hence, it is imperative that one should buy the same from reputed merchants who have solid experience in selling various sorority dresses and the related accessories.
Make Some Checks before Buying Delta Zeta Apparel Online
• The primary point that one will have to check is whether the Delta Zeta clothes project the real spirit of the sorority. This is vital, and one will have to consider this while buying the same. The key traits of Delta Zeta girls are philanthropy, friendship with the group members, allegiance to the group, self-esteem, and familiarity and attachment with the sorority activities. Hence, the apparel must reflect all these qualities.
• Another significant factor that the buyers must take into account is whether the merchant is open to customization. Only by customizing the apparel, you will be able to make it more bubbly-looking, attractive, and modish.
• The apparels must be stylish-looking with elegant and original designs. It must have the capacity to create a stable effect on and off the university grounds. One must choose the right shades that will go well with the sorority occasion.
• You will need separate outfits for different sorority occasions. For example, if you are attending a summer camp, you should wear a sporty-looking Delta Zeta t-shirt. On the other hand, if the occasion is a beach trip, you must go for a tank top. Hence, it is always good to have a set of different Delta Zeta apparels.
• The formal colors that represent Delta Zeta are green and rose. Therefore, it is essential that you must choose these colors. Of course, you can go for the different shades of the same, but not with high variations. When you shop from established merchants, this is possible.
• The official symbol of the sorority is the Roman lamp. If you can fix it somewhere in the apparel, then that would be great. From the first look itself, one will be able to recognize you as a Delta Zeta member. You can fix a small-sized symbol, if you are not for bigger ones.
• If you don't like to design a Roman lamp in your Delta Zeta apparel, there is another option to announce your sorority publicly. The sorority flower is pink killarney rose, and you can imprint the same somewhere in the t-shirt.
• Diamond is the official stone of the group, and printing the same in the apparel is another practical option to expose the name of your sorority.
• The legitimate mascot of Delta Zeta is turtle. By bringing in the image of a turtle in the apparel, you can clearly reveal your sorority.
Benefits of Buying from Established Merchants
Merchants who have relevant experience in the trading sorority or fraternity apparels will have a comprehensive awareness as regards the various groups and their requirements. This will make your selection and buying processes easy. You will just have to pick the product and order; the same will arrive at your place within the prescribed time. Top companies offer free shipping. Such companies will give their customers equal value, whether they buy small quantity or bulk quantities. The customer service of these companies will be super, and the processing period will be less. Moreover, buyers will get the assistance of competent designing specialists for creating innovative Delta Zeta apparels. Another added advantage is the low price tag; you are sure to get the items at discounted rates.