Things to Consider While Buying a Girls Gym Bag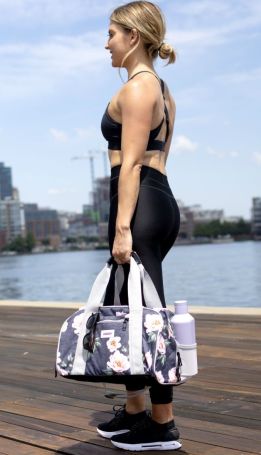 People have not taken fitness seriously as it is today. Be it Zumba, yoga, gym, aerobics or any other fitness activity, one needs a gym bag for carrying their clothes, equipment, and essentials. Especially girls must pay a lot of attention before purchasing girls gym bag as there are many things to consider for not choosing the wrong bag. Imagine dumping all your work clothes, undergarments, sweaty clothes, headphones, etc. inside a bag that has one compartment only. It is a total mess, isn't it? Exactly this only happens when you are not paying proper attention while purchasing a gym bag. If you are working out regularly at a gym or playing a sport then having a gym bag is the best idea. By having a dedicated gym bag, you can maintain a routine that will help in making your preparation before a workout more convenient, making your time at the gym more efficient. In addition to that, post workout you can store your gear and fitness apparel more easily in separate compartments thereby keeping your bag hygienic.
When picking the right girls gym bag, there are some factors one need to consider that are discussed below.
Type of Material – Style has a large impact on the type of bag when it comes to gym bags for girls, but also one's preferred workout. Nylon, canvas, and leather are the three main materials used for the manufacturing of gym bags. But, these materials serve different purposes. A nylon gym bag works well for travelers as it can handle all types of activity and terrain levels. Canvas also accounts for a great traveling bag mainly for avid hikers due to the heavy-duty material. Please avoid leather gym bags if you walk for long distances as the bags are often heavier. Leather is more suitable for the gym as it can resist a little wear and tear.
Design – After you have chosen a few bags with your preferred material, now you need to look for the design. While shopping for the girl's gym bag, you must consider the type of gear that you will be putting in the bag. We are discussing more than a change of clothes, shoes, headphones and a water bottle. Will you carry your own workout gear like a yoga mat or have to prepare for a day at the office after a gym session? Do you need your shower supplies and hair straightener? All this impacts the design of your bag.
Duffle Bags – When we are talking about gym bags especially for girls, duffle bags are a go-to bag. Put all your gear and other accessories with breaking any sweat. These bags are very handy when one is commuting frequently from the gym to the airport and need your bag for doing a double. They are sturdy and large, have removable straps and lots of extra space for your clothes and shoes.
Tote Bags – These are the perfect girl's gym bag who require lighter loads and take short routes for carrying to the gym. And still, you will be staying super organized with your tote. The tote bags are also great options who are having hectic schedules. They are super versatile and come in various materials so that your outfit will never clash. After a workout, go directly to brunch with total ease and style.
Backpacks – Are you on the move a lot of times? Maybe you are rushing from classroom or office or from an event and have to squeeze for a workout. The backpacks are best suited who will have a lot of gear not just related to the gym but need to be organized and mobile. A backpack is not only convenient for girls who commute to the gym on their bike or public transport but perfect for those who keep on rotating outdoor activities into their traditional fitness routines.